Firefighters train to fight fires, save lives and protect personal property
Published 7:00 am Tuesday, April 8, 2014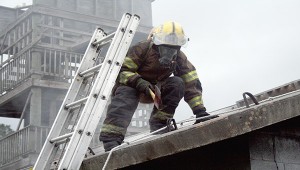 More than a dozen county volunteer firefighters underwent training Friday that will help them pass their state certification test under the Mississippi Fire Academy.
Training involves both classwork and hands on experience with fire fighting techniques, said Pine Grove Fire Chief Steve Seal.
Once the trainees pass their written test they will head to Jackson to take their practical test, which is similar to the test professional firefighters take, Seal said.
Some of the skills the volunteer firefighters learned in the training include knots and ropes, fire behavior, search and rescue and tools and communication.
A total of 13 volunteer firefighters from five volunteer agencies participated in Friday's live training at Picayune's Fire Station 1.
During the training, a hot box, or concrete structure built to resemble a home that has a fire inside, was used to simulate a residential fire.
The trainees were tasked to form teams that would perform different functions to put the fire out and rescue potential survivors.
Those tasks included fire suppression, search and rescue and climbing to the roof to provide ventilation. The search and rescue team was to enter the hot box and look for a dummy victim, while the fire suppression team used a fire hose to extinguish the flames. A third team climbed the roof of the structure and simulated using an ax and other tools to breach the roof to allow the home to ventilate.
Seasoned veteran firefighters were on hand to make sure everything went smoothly.
"We will be here to make sure no one gets hurt, but we let them figure out how to handle the situation on their own," Seal said.
Classwork is performed using the exact same book professional firefighters use. Seal said this training is essential because it helps volunteer fire departments keep the best possible rating they can. Seal said every fire department, municipal or volunteer, is rated by the Mississippi State Rating Bureau on a scale of 1 to 10, with a 1 being the best and 10 the worst. Most volunteer departments in Pearl River County are ranked at 8, which provides homeowners with a 30 to 40 percent savings on their home fire insurance, Seal said.
Participating in Friday's training included firefighters from Southeast, Carriere, McNeill, Nicholson and Pine Grove volunteer fire departments, Seal said.
More News