Dessie R. Spinks
Published 5:26 pm Tuesday, June 10, 2014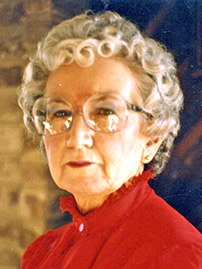 June 9, 2014
Funeral Services for Dessie R. Spinks, 98, of  Coffee County, Ala., who passed away Monday, June 9, 2014, will be held Friday, June 13, 2014 at 11 a.m. at Sorrells Funeral Home, Enterprise, Ala..
Visitation will be Friday, June 13, 2014 from 10-11 a.m. at Sorrells Funeral Home in Enterprise.
Burial will be in Center Ridge Cemetery, Troy, Ala., under the direction of Sorrells Funeral Home.
A native of Coffee County, she was a Homemaker and a member of Union Baptist Church, Picayune, Miss. Granny was a loving wife, mother, and grandmother who was loved by everyone who met her. She was a devout Christian who enjoyed spending time with her family and friends.
She was preceded in death by: her husband, Judge G. Spinks; parents, Tobe Senn and Lila Norton Senn; two daughters, Verlene Spinks Hunter, Teresa Wilkie; six sisters: Neelie, Margaret, Willie, Thelma, Maudie, and Mary Lou; five brothers: Leroy, Curtis, James "Junior", Nodus, and Nollie.
Survivors include: her two sons, Charles Spinks and wife Vanessa, Toby Spinks and wife Denise; daughter, Rita  Lugg; ten grandchildren: Tanya Spinks, Rebecca Spinks, Elizabeth Spinks, Jessica Spinks, Jordan Spinks, Jacob Spinks, Kenneth Hunter, Janice Hunter-Smith and husband Gavin, Alan Lugg, and Megan Wilkie; five great-grandchildren: Kayla, Brooke, Chelsea, Rayleigh, and Craig, four great-great-grandchildren, many nieces, nephews, and cousins.
Obituary, register book, and driving directions can be found on the internet page, at www.mcdonaldfh.com
More Obituaries