Marjorie B. Wright
Published 6:22 pm Thursday, May 1, 2014
Marjorie B. Wright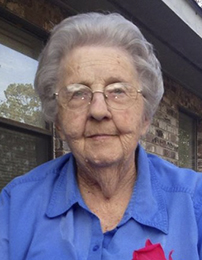 May 1, 2014
Marjorie Ball Wright left this world and a worn out physical body and was translated, through her faith in the resurrection power of Je
sus Christ, into a glorified body and entered Heaven to see her Savior face to face on Thursday, May 1, 2014.
Marjorie was born on December 7, 1921, and lived everyday of her life in service to her God and everyone else who God brought into her life.
Born on a farm in Washington Parish Louisiana to Mike and Alma Ball (deceased) she learned early how to care for her siblings: Ray Ball, Ouida Boyles, Dorothy Hennigan, Bobbie Brown (all deceased), and her surviving brother Rodney Ball.
As a young woman she volunteered to serve her country and become a Sergeant serving in the Army Air Corp as a WAC during WWII. Upon leaving the military she became and independent businesswoman purchasing her own home.  This was very rare in the 1940's and 1950's. During thi
s time she served the community in Baton Rouge, La., by helping to plant mission churches.
God led her back home to Angie, La., where she met and fell in love with a single father (Julion B. Wright, deceased). She became his wife and his sons became her sons: Joseph Donald Wright of Picayune and James Ronald Wright (deceased). They had two more children, Doulgas Julion Wright (deceased), and Julia Wright Fortenberry of Picayune.
During her lifetime she served through various churches she attended. She served through volunteering to help care for others at the local nursing home. She continued to serve her community through her involvement in local, state, and national politics. She was instrumental in helping develop the Republican Party of Pearl River County.
On the family farm she helped raise her children and their friends and her grandchildren and their friends. As long as she could drive she delivered Sunday School literature to shut ins. When she was no longer able to drive she continued to minister to others through phone calls.
Her family was so important to her, her daughters-in-law and son-in-law were always cared for as her own children: Patsy Bartbell of Pope, Miss., Jeannie Wright of Hurricane Creek, Miss., Judy Wright of Gatlinburg, Tenn., and Gary Fortenberry of Picayune, Miss.
She will be deeply missed by all her family including her 8 grandchildren: Jeff Wright, Jeremy Wright, Jessica Wright, Derek Wright, Josh Wright, Noah Wright, Rhiannon Dunhurst and Jennifer Browder, her 15 great-grandchildren, and 1 great-great-grandchild, and her many friends and extended family.
Visitation will be held Saturday, May 3, 2014 from 10 a.m.-12 p.m. at Unity Baptist Church. Funeral service will follow at 12 noon with Bro. Randall Childs officiating. Burial will be at Unity Cemetery under the direction of Picayune Funeral Home.
Arrangements are under the direction of Picayune Funeral Home. Please visit our website for the obituary. You can leave an online condolence or share photos and memories.  www.picayunefuneral.com
More Obituaries